It was the first of its kind at St. Joseph's College, and in Long Island. A class where nine "outside" college students were taught alongside nine "inside" students at a correctional facility.
CJ 370: Voices from the Inside, in conjunction with the Inside-Out Prison Exchange Program and held at Suffolk County's jail in Riverhead last fall, proved to be a rewarding and transforming experience for the students and the professors. 
"The kind of outside students who are attracted to a program such as this are already people who are intrigued and interested," said SJC Long Island's Department of Criminal Justice Chair Barbara Morrell, Ph.D., who led the course together with SJC Long Island English professor Gregory Bruno. "They come with a thirst to understand beyond the book. And I think they're going to get it."
Developing Empathy
Bruno said the class helped St. Joe's students develop a greater appreciation and understanding of empathy. "Especially among students that might be working with similar populations in the future," added Bruno, who earned a bachelor's in English from SJC Long Island in 2012.
The main takeaway from this course for outside students seems to be just what Bruno had hoped for.
"This course has taught me that we are all people; inside or out, we all bleed the same blood and feel the same love," said one of the outside students. "We are all human."
Inside students also left the course feeling transformed.
"Inside-Out has changed me," said an inside student. "It's inspired and motivated me to do the right thing when I get out in a few weeks. Honestly, I'm planning on going back to school, and I'm definitely looking forward to it."
The organizers of the class asked that we not include students' names.
All Students Welcome
This semester-long course was offered to all majors — not just to those students studying criminal justice. The predominant majors among the participants were English secondary education, criminal justice, psychology and political science. Women at the Riverhead DWI Correctional Facility interested in the course participated as inside students. Both inside and outside students went through an interview process. 
"Last year, we had a biology major who wanted to be a dentist, and she said, 'I want to serve all people, like Doctors Without Borders, and I want to be able to understand all kinds of people,'" Dr. Morrell said. 
"I walked into this room with the expectation that we're going to unite human beings. And that's what we did." –Barbara Morrell, Ph.D., chair of the criminal justice department
The idea for this course came about when Dr. Morrell and Bruno attended conferences where people presented on the Inside-Out Prison Exchange Program, created in 1997 by Lori Pompa, a professor of criminal justice at Temple University in Philadelphia, Pennsylvania.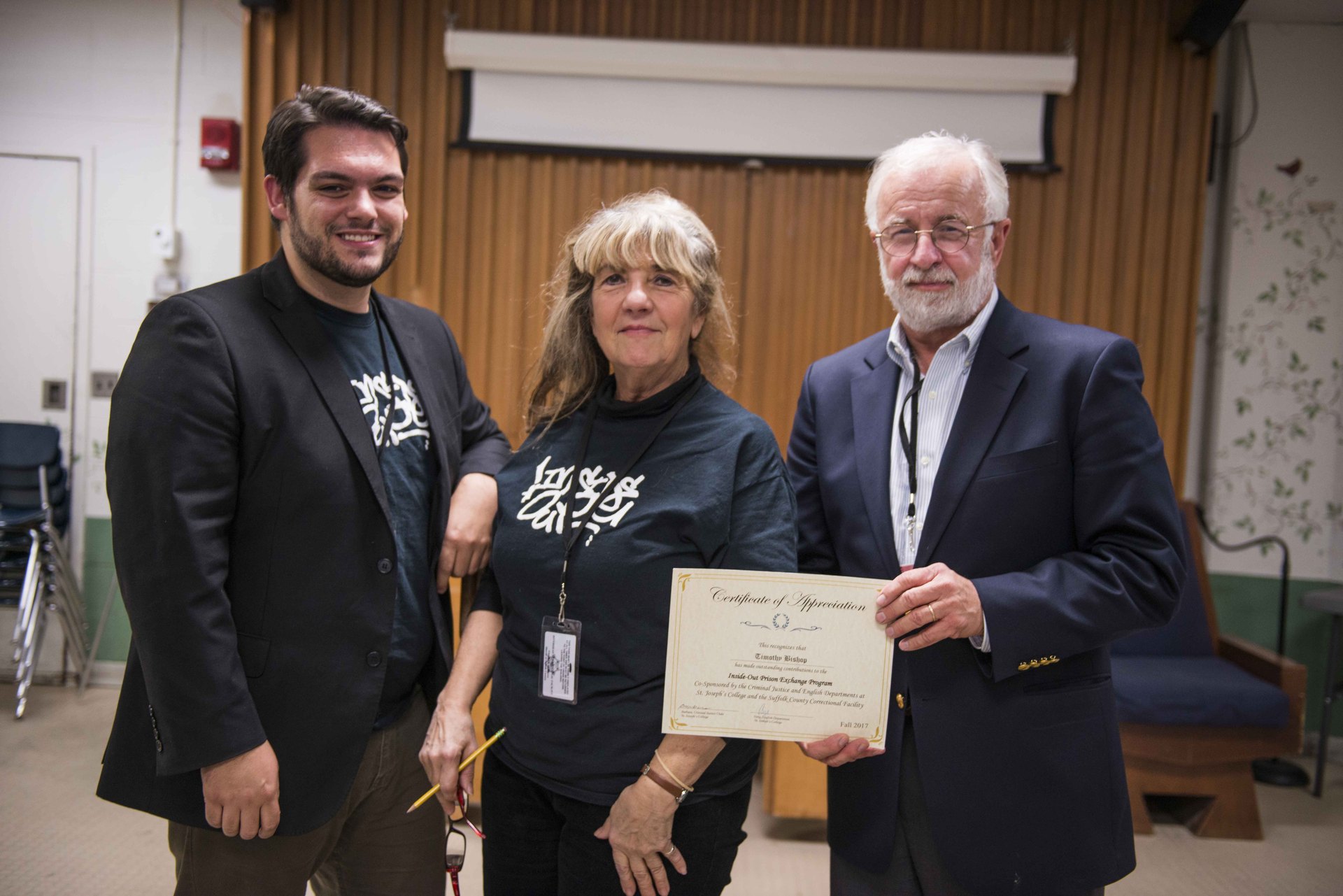 "SJC's former Senior Vice President Christopher Frost, Ph.D., gave money through a social justice grant in order for this class to happen," explained Dr. Morrell. "Tim Bishop, who's also the current director of SJC's Center for Community Solutions, made outstanding contributions in support of the course and in coordinating efforts with the Suffolk County Correctional Facility. And Suffolk County Sheriff Vincent F. DeMarco was very welcoming."
Uniting Human Beings
Once a week, the class met to discuss an array of topics, including philosophies of punishment, and various assigned readings that included the works of Plato, Martin Luther King Jr. and Nelson Mandela. The students and instructors sat together in a circle, alternating seats between inside and outside students.
"I walked into this room with the expectation that I'm going to unite human beings," said Dr. Morrell. "And that's what we did."
At the end of the semester, the class participants received certificates of recognition during a Dec. 7 ceremony at the jail. In attendance were Interim Executive Dean of SJC Long Island and Chair of the Department of Philosophy Wendy Turgeon, Ph.D., former U.S. Rep Timothy Bishop and James "Butch" Langhorn, assistant to the sheriff.
Regarding the inside students, Dr. Morrell said, "to be able to go back with a certificate that they completed a program, it's pretty meaningful."