Congratulations on graduating, St. Joseph's College class of 2017! Now, it's time to prepare for life after graduation, or as half of your graduation cards will say, "Welcome to the real world."
Fear not. Here are some tips to help in the process of #adulting:
1) If you haven't already, determine if your dream job requires more time in class.
Do you need a master's degree – or perhaps a doctorate – to break into the career you always wanted to work in? If so, you'll need develop a list of schools that have the program you're looking for. Consider sending an email or placing a call to the department chair. Set up a meeting and a tour of the campus at the colleges that appeal most to you, that way you know which is the best fit. You can usually request to sit in on a class, too.
Also, find out if you need to take additional tests, such as the GRE, in order to be accepted. Not all colleges and universities require graduate students take the GRE.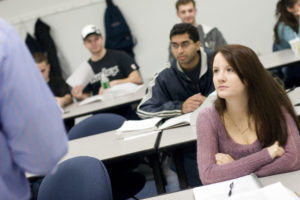 2) Make sure your résumé is ready and up-to-date.
A résumé must highlight your experience, skills and accomplishments. Next to a cover letter, your résumé is often your first impression on a prospective boss. Fortunately, there are many sources to help alumni develop their résumés. Be sure to contact someone in SJC's Office of Career Development and Engagement for assistance.
Along with LinkedIn and Indeed, Handshake is an extremely important job search tool. "Handshake is an intuitive tool that allows SJC students and alumni to search for internship and employment opportunities, along with affording them the ability to connect with over 30,000 employers nationwide. And it is free!" said Jennifer Rooney, director of Handshake. This mobile-friendly career services platform can also be used to schedule one-on-one meetings with a career counselor.
Share your résumé and search for jobs through these platforms. Additionally, employers can find your résumé while searching for prospective employees. LinkedIn reports that they have 433 million registered users. You can find out other interesting LinkedIn stats here.
Make sure you have an updated professional photograph for these sites (no bathroom mirror selfies!). If you don't have a professional photo you would like to use, stop by one of SJC's career events (which are posted on Handshake) to get your picture taken.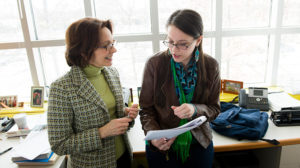 4) Networking is extremely important.
Keep in touch with your professors after graduation. Make sure you store their phone numbers and/or email addresses. Reach out now and then to keep them updated on your life. It's also a great way to see if there are any job openings they know of that they can recommend. Another great resource that SJC offers is SJCmentor, which lets you can connect with accomplished alumni in your field and discuss potential career options.
5) Don't be afraid of taking a job outside of your field.
It's not always easy to find a job in your field right out of college, but you need one to pay your bills. While it might be upsetting or frustrating, do not let it discourage you. Consider options outside of your area of study, that still interest you and are within your experience range. Plus, at SJC, your degree in liberal arts has prepared you for this. The diverse educational background gives alumni experience in various fields – not just the one majored in – so graduates come away with an array of soft skills that employers desire.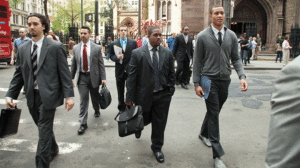 6) Attend job fairs.
Job fairs are a great way to learn about job openings within your area. Employer representatives are there to offer various details about their companies and what the positions entail. Here are some upcoming job fairs on Long Island, and here are some job fairs in New York City. You can also take a look at SJC's job postings to see which positions are open at the College.
7) Take control of your bank account.
Perhaps one of the hardest parts of #adulting is saving money, but it's necessary – especially when thinking about putting a down payment on a car, condo or house. It is also extremely important to have money saved away in case of emergencies. Luckily, there are many different tips within this realm, from Forbes' helpful article to the subreddit "Frugal Living." Check these sources for tips and start saving now.
Keep in mind, Forbes recommends saving 15 percent of your earnings each year.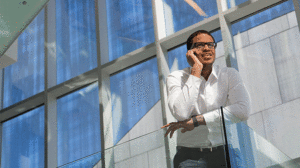 8) Stay aware of your student loans.
If you make it to college graduation without a single student loan, consider yourself extremely lucky. However, if you're one of the millions of students who will have to start paying back student loans just six short months after graduation, be sure to quickly learn more about your  loan. Create a login on your student loan provider's website, and determine how much you owe. Your loans gain interest over the year, so the amount you owe is more than the loan you received.
Next, learn how much the standard person pays back per month and how many months it takes. You can ask for a lower monthly payment to meet your budgetary needs. Remember that by paying more each month, you can significantly cut down on the time it will take to pay off the loan in full.
For more answers about student loans and paying them back, check out Debt.org. However, if you earned straight A's throughout college, you may want to consider asking music icon Nicki Minaj to pay off your student loans. She's already paid off a number of students' tuition bills and student loans, and she plans on starting up a charity to raise money to pay off college debt for other straight-A students.
9) Take advantage of your SJC alumni benefits.
SJC offers plenty of awesome alumni benefits on and off campus. Take a look at each list, so you don't miss out on these great chances. On-campus benefits include discounts at SJC events and activities, making it more affordable to stay involved with your alma mater, and allowing you the opportunity to still enjoy the events you attended as a student. Off-campus benefits include a long list of discounts at entertainment venues, hotels, restaurants, services and shops. To receive these great benefits, alumni must pick up an SJC Alumni Association membership card from the Office of Alumni Engagement.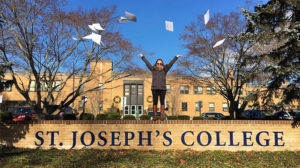 10) Don't forget to celebrate your graduation.
Be proud of yourself and don't forget to celebrate this amazing feat! For SJC Long Island and SJC Brooklyn graduates, consider celebrating by attending SJC's outdoor movie night, which will be showing "Moana." SJC Brooklyn's event is Aug. 1, with a rain date of Aug. 3. SJC Long Island will show "Moana" Aug. 8, with a rain date of Aug. 10. Both events start at 7 p.m.
Rooftop Cinema Club also offers a great way to celebrate your graduation and kick off your summer. They offer classic films, such as "Pulp Fiction," "The Big Lebowski," and "Dirty Dancing," or 2017 flicks, like "La La Land" and "Moana." There are two locations: Office Ops in Brooklyn and Yotel in Manhattan. Office Ops is BYO drinks and food, while Yotel includes a glass of champagne and a bag of popcorn with each ticket. Yotel also has a rooftop bar. Tickets sell out pretty quickly, so get online, fast.
Don't forget about your alma mater after graduation. The College offers so many benefits and resources for alumni to use, and the doors are always open to you.