On the same day on which St. Joseph's College celebrated its Founders Day – and two days after the school's official 100 centennial birthday – it was fitting the College honored perhaps its most famous living alumna. On Oct. 4, esteemed poets, friends and members of the community gathered at SJC Brooklyn in a tribute to Marie Birmingham Ponsot '40.
Winner of the 2015 Aiken Taylor Award for Modern American Poetry, Ponsot's name and influence continue to illuminate the legacy of SJC. She is the inspiration for the school's Writer's Foundry M.F.A., a mother of seven and an award-winning author of several collections of poetry, including The Bird Catcher, which won the National Book Critics Circle Award.
The evening was an opportunity to celebrate Ponsot's work and spirit. A who's who of eight contemporary poets took the Tuohy Hall stage one at a time, each offering a reflection of Ponsot's influence, before reading a selected poem of her work. After reading The Title's Last, Jackson Taylor invited Ponsot to take the stage. At 95, Ponsot obliged.
Assisted by her daughter Monique, Ponsot ascended to the stage and took a seat. Reading from her recently published Collected Poems – the stunning lifework gathered in one volume, covering 60 years of poetry from 1956 to 2016 – Ponsot brought the Tuohy Hall audience to their feet. A standing ovation for a lifetime of influential, award-winning poetry.
---
---
Tributes to Marie Birmingham Ponsot
She's taught me so much about the relation of poetry to life, and about poetry's relationship to experience."
"Marie Ponsot has been one of my great models in poetry and in life. I wish we could mint her character. She's taught me so much about the relation of poetry to life, and about poetry's relationship to experience. Her poems are so witty and watchful and wonderfully crafted. And one of the most powerful things about them you can see is that she uses forms as an instrument of discovery, rather than a package." — Edward Hirsch, editor of this year's Best American Poetry anthology and chancellor of the Academy of American Poets.
"I think people who don't know poets don't understand that we have the same kind of fan potential that sports fans have. When something like the collected poems of a poet you really love comes out, that's like the Super Bowl. It's a major joy in my life, and for that poet to be a friend of mine, someone who's taught me so much off the page and on the page. It's just really overwhelming." — LB Thompson, poet and Whiting Award winner.
The gift that Marie has given to so many, has no limit."
"I often think that the teachers who are most transformative in our lives, are the ones who live on in us – whose presence expands beyond the time we spent together. From a distance, they inform and guide and refine us. The gift that Marie has given to so many has no limit. It continues to generate and will keep generating in those who are lucky enough as am I to intersect with her life." — Timothy Small, SJC professor and assistant director of the PEN Prison Writing Program.
"When I began to study poetry with Marie, she and I had already been friends for about 15 years. And one of my colleagues at the time, a male, said to me, 'To put yourself under the tutelage of a female poet is career suicide.' Luckily, I'd already been taught by Marie that poetry was a calling and not a career. But more important, I did not care about such limited perceptions, because I wanted to be where the brains were." — Jackson Taylor, director of SJC's Writers Foundry M.F.A. and co-founder of the graduate writing program at The New School.
The Evening's Reading List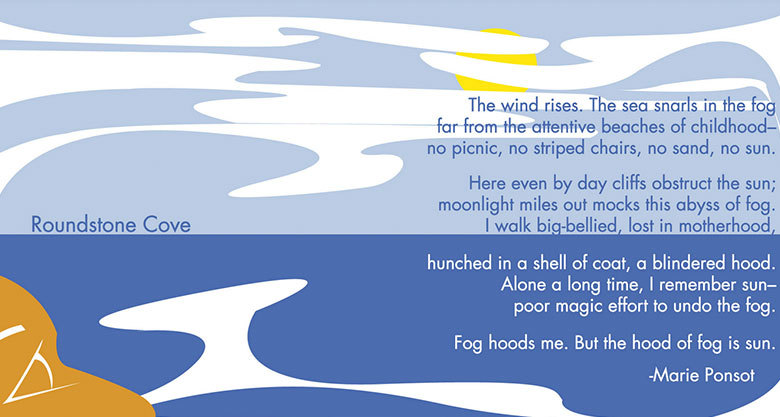 Roundstone Cove • Read by Alice Quinn, former poetry editor of The New Yorker and executive director of the Poetry Society of America.
Art of the Cave • Read by LB Thompson.
One is One • Read by Cynthia Zarin, Yale professor, The New Yorker staff writer and Guggenheim Fellowship recipient.
Springing • Read by Timothy Small.
Hangzhou Lake of the Poets • Read by Rosemary Deen, who along with Marie Ponsot co-authored two books about the fundamentals of writing (Beat Not the Poor Desk and The Common Sense).
A Rune, Interminable • Read by Edward Hirsch.
The Title's Last • Read by Jackson Taylor.