Olusola Togun-Butler, Ph.D., is using the summer to spread her love for education across the world.
The human services professor at SJC Brooklyn traveled to Kenya in July on a mission trip with Christ Love Ministries, a religious organization founded by her parents. On the trip, Dr. Togun-Butler personally funded a scholarship for a young woman struggling financially to finish her lab technician degree.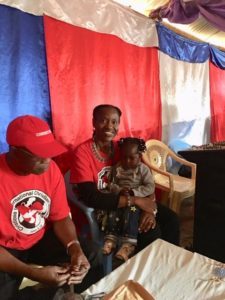 "I believe education is so important," Dr. Togun-Butler said. "A lot of these families who are living in poverty understand that their child has to be educated, but they don't have money. That's when I step in. Now, they don't have to worry about the tuition."
Christ Love Ministries connected Dr. Togun-Butler with a local church in Eldoret, a fast-growing city in western Kenya. The church had an impeccable recipient for the scholarship in mind: a hardworking, young woman who was trying to better herself, despite difficult life challenges, including being orphaned at a young age when her parents died, Dr. Togun-Butler said.
"I thought she was absolutely lovely," said Dr. Togun-Butler, a native of Nigeria. "Here's a girl who had so much adversity in her life, but she's the happiest, most loving person. Spending time with her, I really got to like her a lot. I just knew she would be the perfect candidate."
A Mission to Bring Life Lessons to the Classroom
Dr. Togun-Butler, who started teaching at SJC Brooklyn in January 2018, said she often pulls from her experiences from mission trips during classes.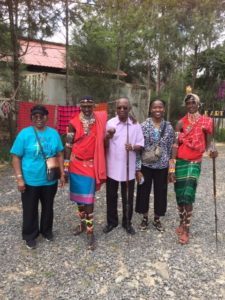 "I talk to my students a lot about my mission trips," she said. "A lot of my students will say to me, 'There's so many problems in the world. I'm overwhelmed. How do I know what to do?'
She continued: "I say, 'Find what you're passionate about. Find your niche. Find what you enjoy doing.'"
Dr. Togun-Butler is passionate about the importance of education and of spreading awareness about cultural diversity.
In fact, she recently penned a children's book called "Where Do You Keep The Lions? An African Girl's First Day of School in America" that exposes children to cultural awareness and sensitivity by encouraging them to ask polite questions when they're curious about other cultures.
Dr. Togun-Butler said she noticed that the American media tends to paint Africa as a place that is mostly safaris and jungles, and riddled with poverty and starvation. While those are real issues within the continent, the media snapshot often fails to show middle class Africans who have routines very similar to what you see in America — waking up early to go to work and school, spending time with family, and planning occasional vacations, she said.
The book gives readers a new perspective about Africa.
On every visit to Africa, Dr. Togun-Butler does a lot of reflection, always returning to Brooklyn — her current hometown — feeling like a better person, she said.
"I think I come back more appreciative of what we have," Dr. Togun-Butler said. "I feel a lot of gratitude because when you go to developing countries, the poverty is different than what you see here — kids with no food, no clothes, no shoes, no electricity. You see some devastating poverty.
"But then, within that, you see some of the happiest, most loving, giving and amazing people you will ever meet."