The chair of the religious studies department and the campus ministry director at SJC Long Island will be guest speakers at special screenings of "Pope Francis: A Man of His Word" on July 26 and Aug. 5 at The Plaza Cinema & Media Arts Center.
"This is part of an ongoing collaboration that the Cinema has had with St. Joseph's," said Thomas Petriano, Ph.D., chair of the Department of Religious Studies, who will speak at the July 26, 7:30 p.m. screening. "This is an important film for all who would like to know more about Pope Francis and his message.
"He has become a highly respected world leader, even among non Catholics and those who are not religious," he added.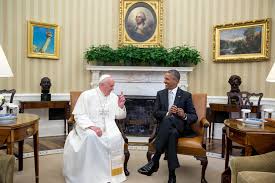 The 2018 documentary directed by Wim Wenders premiered at the Cannes Film Festival. It documents Pope Francis' personal journey to present his reform work and address important global questions ­– from his deep concern over the inequality between the poor and wealthy to his involvement in environmental issues, social justice, and calls for peace. Wenders blends intimate conversations and interviews with footage of the pope's public outings, where he captivates large, diverse crowds.
"This film is not a film about the Pope. This film is the Pope," said Cristian Murphy, director of campus ministry and a 2014 SJC Long Island graduate. "The film captures raw footage of the Pope's past four years in ways that will inspire and impress the audience."
Murphy, himself an avid filmmaker, will speak at the Aug. 5, 10:30 a.m. screening.
"St. Joseph's College students should see this movie because the messages that Pope Francis shares to the viewer would impress and perhaps even shock them," Murphy said. "This film reminds us that we must never assume anything about anyone or any organization. Pope Francis truly welcomes all viewers to sit in the theatre with him and share experiences."
Dr. Petriano said one of the reasons Pope Francis is so highly respected by so many is because he truly lives the message he preaches.
"He is a voice for the voiceless, for the poor and the oppressed, for refugees, and for our beleaguered planet," he said. "His words are authentic, challenging and, at the same time, uplifting.
"At a time when there is so much turmoil in our world, this is a film that gives hope, as it calls us to be agents of peace and justice. I think our students will be inspired by the way he speaks in this film," Dr. Petriano added.
Tickets for both showings of the Pope Francis documentary are $9. Admission for students is $7; for children under 12 tickets are $5.
The Plaza Cinema & Media Arts Center is located at 20 Terry St. in downtown Patchogue.