The SJC girls excel in their technique and tricks. Their turns and hip-hop skills are something that is envied by most dancers." — Theresa Stone, professional choreographer who appeared last month on Fox TV's "So You Think You Can Dance"
The SJC Long Island dance team is coming off their most successful season to date under head coach Jessica Desz '13, an SJC dance alumnae. Among NCAA Division II and III schools, the squad is ranked 5th in the nation in Hip Hop and 9th in Open Jazz — the highest national rankings in SJC dance history — after competing against 20+ teams at the 2016 UDA National Dance Team Championship in Orlando, Fla. in January.
"They give it their all inside and outside of practice," said the dance team's coach, Jessica Desz. Another strong asset that contributed to the team's achievements is their connection with team choreographer Theresa Stone. "She knew exactly how to choreograph the dance to not only be the style we needed for the competition, but to make the dance team succeed and show how talented they are," said Desz, regarding the 2016 national championship.
Stone, a Manorville, N.Y., native, made her television debut as a choreographer Aug. 29  on FOX TV's hit show So You Think You Can Dance. This lifelong goal of Stone's was set in motion by her own creative vision and a burning fire inside to set her own work in choreography. "I just always wanted to speak my own voice through others," she said.
Keep a look out for our choreographer on SYTYCD !! #SYTYCD #SJCDT #TheresaStone

— SJC Dance Team (@SJCdanceteam) August 30, 2016
Stone began working with SJC after she was introduced to the team by her younger sister Bryanna Stone '17, a  senior captain of the dance squad. "I went to UDA Nationals two years ago and saw the team's full potential and knew if I could get in a rehearsal with them, we could make magic," Theresa Stone said.
Last year, Stone began working with a team that was ready to be taken seriously. With experience and leadership from Coach Desz, Stone's creativity and the squad's ability to interpret that creativity, the team was able to showcase individuality and a sense of originality at nationals.
Coach Desz expects the women will continue to work hard this season, with Stone's experience over the past year only benefitting the squad further. "So You Think You Can Dance taught me more about the world of television and movement; things that read well on film and things that don't read as well; making choices that fit everyone in the piece, as well as appeal to my eyes," Stone said. "With this knowledge, I will be able to further give the SJC dancers movement that will better fit their bodies and abilities."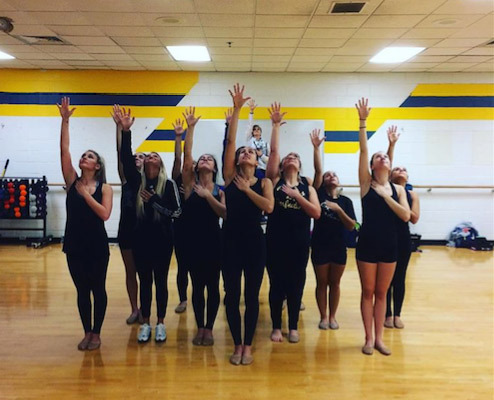 The 14-member roster is striving to place in the top five in Jazz and bring home a medal in Hip Hop by finishing in the top three at the upcoming national competition. Bryanna Stone and Courtney Flynn, a junior, are the 2016-2017 team captains. The team spent the summer preparing for the 2017 UDC Nationals that take place Jan. 13-15, 2017, at ESPN World Wide Sports in Walt Disney World Resort® in Orlando, Florida.