Three St. Joseph's University, New York students from the Long Island Campus traveled this summer with Cristian Murphy '14, director of Campus Ministry, to the U.S. Federation of the Sisters of St. Joseph conference, "Radically Transforming Community," in St. Louis, Missouri.
"This conference was about radically transforming community through social justice actions toward systemic racism, specifically issues in jails and prisons, and reforms that need to happen in regard to the way people are treated," Murphy said.
The event, which took place July 8–10, saw more than 1,000 attendees participate in-person and via livestream.
"It was one of those things I knew I would regret if I didn't go," said Claire White, a senior English major with a concentration in adolescence education.
White was joined by fellow seniors Danielle Saint Laurent and Erin Makowski, all of whom received scholarships to attend the conference.
"The nuns and many of the speakers at the conference proposed that we can use our faith to bolster people in a society where so many people are brought down on their luck and there's a lot of suffering and pain," said White, who's very involved with Campus Ministry and the student-run BASIC (Brothers and Sisters in Christ). "Instead of saying religion causes that, we can say, 'No, we can use our faith to fix that.' And I think that's a really beautiful message."
Inspired by the Sisters of St. Joseph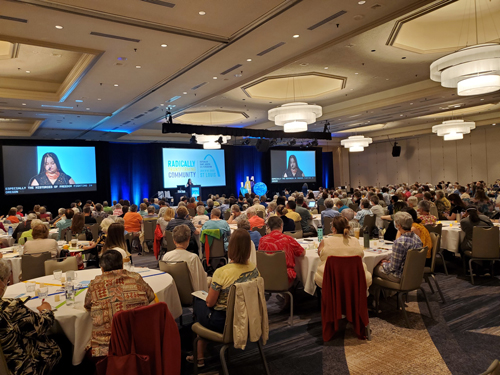 The conference helped revitalize the students' connection to the history of the University and its Sisters, with many of the conversations focusing on unifying love and what it means to belong to a diverse community.
"I've been thinking about the Sisters mission statement of loving the dear neighbor a lot," said Saint Laurent, a child study major with a concentration in Spanish.
"It makes sense; if we just love one another, a lot would be easier," continued Saint Laurent, who is also involved in Campus Ministry and BASIC. "I've been thinking a lot about how I'm going to answer my call to love my dear neighbor, both within the St. Joseph's community and outside of it, and how I can help others to do the same."
Makowski, an English and religious studies double major, enjoyed the opportunity to get to see some of the Sisters in a different atmosphere and learn more about them as people.
"What I saw from the Sisters there is that they're not afraid to stand up for what they believe in," she said. "That's like a foundation of the Sisters of St. Joseph; they've always stuck to who they are as a federation. I hope that more students will understand that you don't have to be afraid to be true to who you are. You can stand up for what you believe in and be respected, and you can do it with dignity and grace like the Sisters do."
Getting Involved on Campus
Those interested in growing their faith and gaining a deeper connection with the history of St. Joseph's University and the Sisters who founded it have plenty of opportunities to do so this semester.
Campus Ministry is inviting students, faculty and staff this October to the Sisters of St. Joseph property in Brentwood for Mission Days. There, the participants will have the chance to tour the grounds, learn about the Sisters' sustainability efforts, connect with their faith and more. Mission Days are set to take place Saturdays, on Oct. 1, Oct. 15 (special Founders Day edition) and Oct. 22. For more information or to sign up, email licampusministry@sjny.edu.