To say the least, Kenneth Byrne's college experience was unique.
"I was the only guy in any class until my last semester there," said Kenneth Byrne, a retired elementary school teacher who in 1972 became the first male graduate of St. Joseph's College.  "It was an odd little thing."
This school year marks 50 years since the College became a coeducational institution.
At its inception in 1916, the College — then named St. Joseph's College for Women — only educated female students. The College admitted men for the first time in 1969, along with many single-sex colleges and universities across the nation, explained Raymond D'Angelo, Ph.D., interim executive dean at SJC Brooklyn. With the change in the student body, the College dropped "for Women" from its name, becoming St. Joseph's College.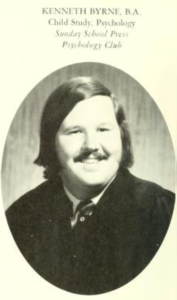 "The 1970s were a time for change in higher education across the country," Dr. D'Angelo said. "One significant change was the many single-sex colleges going co-ed — and that included St. Joseph's. It was part of a larger cultural shift in American society."
Memories of a Trailblazer
Byrne, who lives in Park Slope, recalled his first days as a male student wandering a traditionally all-female campus.
"I walked into a classroom filled with 50 young women and they all turned and looked at me," said Byrne, who was a transfer student. "I almost ran out. It was quite startling."
After the initial adjustment, Byrne quickly acclimated to campus life at St. Joseph's. He spent most of his time student teaching in the Dillon Center — his favorite place on campus. Byrne especially looked up to Sister Helen Kearney, Ph.D., an assistant professor of child study and a former director of the Dillon Center.
Byrne can still recall a particularly cold winter student teaching in the Dillon Center when it seemed that spring would never come. He said that he developed a lesson plan for his 4-year-olds about the change of seasons, teaching them about the blooming flowers that signal the end of winter. Finally, after weeks of hoping, a flower sprouted from the ground.
"One of the students called me over and we all did a little dance," Byrne recalled. "Those are the moments I cherish."
Going Coeducational Brings New Opportunities
St. Joseph's President Donald R. Boomgaarden, Ph.D., said he is gracious that the Sisters of St. Joseph decided to go coeducational, expanding the College's reach.
"Fifty years ago the Sisters of St. Joseph made a very important decision, and one which was difficult for them, to ensure the future of the College," Dr. Boomgaarden said. "Going coeducational was a radical departure from their past, a past which included successfully educating women for important careers and lives of service. 
"The will of the Sisters to take a chance, to move forward into uncharted territory, is a part of their essential character," the president continued. "Due to their foresight, our College has now graduated thousands of men and women over the past five decades and continues to do so."
Byrne said his milestone graduation in 1972 was an emotional one for everyone in attendance. He remembers receiving a standing ovation from the crowd and seeing teary-eyed friends and family.
He exited the College ready to nurture the minds of the next generation. Byrne spent his 35-year teaching career bouncing around city private schools, mainly in special education or science classrooms.
Byrne said he would have never been able to get his foot in the door without his St. Joseph's education.
"I got all the essentials at St. Joe's," Byrne said. "Child study was a demanding, rigorous program that you had to deal with. In a sense, it was just like life. You go to work and there isn't just one thing you're supposed to do. All the components of the program helped me out in my career."