If you live in New York City and you're looking for ways to beat the heat during the summer, you've got plenty of cool options. Instead of staying in your apartment and racking up your electricity bill by blasting the air conditioner, consider these five options.
Plan a trip to an outdoor pool
Consider taking a long refreshing dip in one of these free outdoor pools. Each location opens June 29. Unless marked otherwise, the pools open at 11 a.m., and close at 7 p.m. All except the Brooklyn Pop-up Pool offer free swimming lessons and have hours dedicated to lap swimming. No electronics or food are allowed at any of the pools. Be sure to bring a sturdy combination lock to lock up your personal belongings. Keep in mind that if you plan on keeping a shirt on in the swim areas, only white shirts are allowed.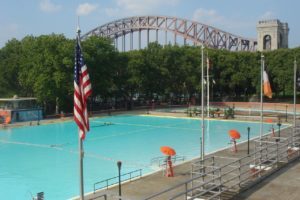 The maximum depth  is four feet deep. In addition to the pool, Astoria Park offers bocce courts, running tracks, tennis courts, fitness equipment, skate parks, playgrounds, dog-friendly areas, spray showers and restrooms. There are plenty of nearby options for food to enjoy after swimming.
While swimming, enjoy a lovely view of the East River waterfront and the city skyline. Bring a combination lock to keep your items safe. If you head to the park area, you can enjoy fishing on the piers, canoeing or kayaking in the water, or a game of volleyball or basketball. There is also a playground.
-Brooklyn Bridge Pop-up Pool, Brooklyn
This pool remains pretty shallow even at its deepest, reaching three and a half feet at its lowest point. There are 45-minute swimming sessions. There are wristbands that indicate to the lifeguards which swim session you are there for. Wristbands are first-come, first-serve. The first set of wristbands are handed out at 10 a.m. Only 60 people are allowed in at a time, and it fills up pretty quickly. You may face a long wait in line for a chance to get wet in this pop-up pool. Pier 4 of Brooklyn Bridge Park is a beach, although swimming is not allowed. Nonetheless, it's a nice place to relax after spending some time in the pop-up pool. Also, if you have a kayak or a canoe, you can launch your boat from this location. Pier six has sand volleyball courts, a dog run and playgrounds, one of which features water jets and is a fun place for little kids to splash around.
Head to Manhattan to enjoy this olympic-size pool, which reaches 10.5 feet deep. The complex features a two-foot deep wading area pool for small children. While swimming, enjoy a view of the city's oldest bridge. The entrance to the pool from the park is on 173rd St. Additional facilities in the area include barbecuing areas; eateries; baseball fields; basketball, volleyball and handball courts; skate parks; bike paths; fitness equipment; playgrounds; dog-friendly areas; spray showers and restrooms.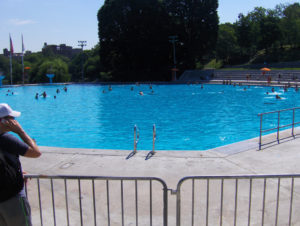 Located in Central Park, this pool serves as Wollman Ice Skating rink during the winter. It has appeared in several films, including "Serendipity" and "Home Alone 2." During the summer, there is a larger pool that reaches 4.75 feet deep and a wading pool that is only 1.25 feet deep. Near the pool are eateries, basketball courts, handball courts, playgrounds, dog-friendly areas, spray showers and restrooms.
If you do not live near any of these locations, or if you want to explore other options, take a look at all free NYC pools.
---
Head to a bowling alley for some time indoors
On a rainy, muggy summer day that you'd rather spend inside, consider going to a bowling alley near you. Enjoy the refreshing air conditioning, while playing a game or two with some friends.
At the Chelsea Piers and Times Square locations, Bowlmor features bowling, an arcade, private lanes, many food options and a bar. The Chelsea Piers Bowlmor also offers laser tag.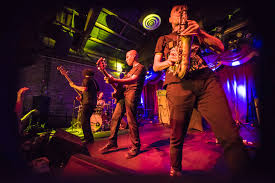 Want to couple bowling with some live music? Try heading to Brooklyn Bowl. They have plenty of food choices, a bar and leather seats. Go to the upstairs lounge to get a great seat for live music performed almost nightly.
If you're looking for more of an upscale bowling experience, check out Frames in Manhattan. Enjoy the option of booking your lanes online so you don't have to arrive at the alley, only to find out there are no lanes available. In addition to bowling, Frames features billiards, ping pong, a large menu selection, a bar, a photo booth and a dance lounge. They also have VIP bowling, which includes two private lanes, sofas and large projector screens. The music you hear and the type of lighting are at your control. For this feature, there is a minimum of 10 guests and a maximum of 20. This bowling alley has a dress code and becomes 21-and-over after 8 p.m.
The Gutter boasts vintage lanes and a bar. It's also BYOF-bring your own food, which is helpful if you're trying to save money but still want to snack. Keep in mind: No kids are allowed.
---
Spend a day at Aviator Sports and Events Center
Aviator Sports and Events Center in Brooklyn offers an all-day pass ($32.50 per person) for unlimited public ice skating and skate rentals, as well as unlimited rock climbing. Customers also get 10 arcade credits, sky jumping (a 12-foot bungee trampoline), one session of open basketball and one session of open volleyball. Aviator also has two private pools to help keep you cool this summer.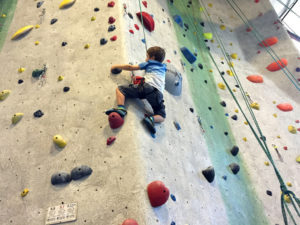 ---
Stop for some ice cream
No matter where your favorite ice cream shop is in the city, make it a point to take a trip there one day during the summer and enjoy a sweet treat that will help cool you down. Here are some popular ice cream shops around town.
-10Below Ice Cream; Chinatown, Lower East Side and East Village
10Below uses only fresh ingredients, with no added preservatives or flavoring. That – in addition to being NYC's original Thai-inspired rolled ice cream shop – makes this a place to check out. The ice cream is made in front of you, so you watch it turn from liquid cream to ice cream. The result is a beautiful work of art. There are 12 different flavors, and you can get unlimited toppings for no extra charge.
This ice cream shop has quite a few locations throughout the city. But what's best of all? If you don't feel like going out, you can always get it delivered to you. For those who don't live in the city, Ample Hills ships nationwide. The flavor names are reminiscent of Ben & Jerry's flavors, including choices like "I Wanna Rocky Road All Night" and "Baby I Was Churned This Way" (one dollar from each pint sold is donated to the LGBT Community Center).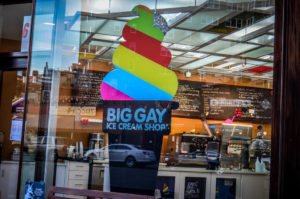 –Big Gay Ice Cream Shop; East Village, Meatpacking Distract and West Village
At this proudly gay-owned ice cream shop, you can find flavors like Salty Pimp Cone, which is vanilla ice cream mixed with dulce de leche and covered in a crunchy shell of dark chocolate. One of their other popular flavors is the Bea Arthur Cone: vanilla ice cream with dulce de leche covered in crushed Nilla Wafers. If chocolate ice cream is more your style, check out their Rocky Roadhouse Cone – chocolate ice cream with chocolate chips and almonds covered in mini marshmallows. Pints of Big Gay Ice Cream are now being sold in select grocery stores in the tri-state area.
–Davey's Ice Cream; Downtown, Brooklyn and Chinatown
Check out the Zagat-rated ice cream at one of the three locations. Their classic and special flavors, sorbets and espresso are served at every shop. Enjoy your ice cream in the form of a made-to-order ice cream cake, milkshake, ice cream sandwich served between two homemade cookies, banana split, brownie sundae, pie milkshake or pie a la mode (which is seasonal).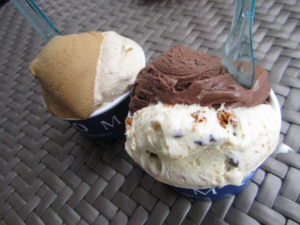 -Grom Gelato; Hell's Kitchen and Lower Manhattan
Enjoy some homemade gelato or fruit sorbet at either of Grom's locations in NYC.
-Morgenstern's Finest Ice Cream, Lower East Side
From classics to specialties, this shop has a bevy of unique flavors to choose from, including Black Coconut Ash and Banana Curry. One of the most interesting options on the menu is Avocado Ice Cream Toast: avocado ice cream on top of Japanese white bread covered with oil, condensed milk and salt. In addition to ice cream, you can also get soft serve, sorbets, sweet drinks, coffee and espresso.
---
Take a day trip to a waterpark
Although there are no water parks in the city, there are plenty in surrounding areas that are close enough to take a day trip to.
Here, you will find both an outdoor and indoor water park, so there's no need to fret about rainy weather dampening your fun. There are 23 water slides, rides and pools at the outdoor park, including plenty of family and kid-friendly attractions. The indoor park has 16 water slides, rides and pools.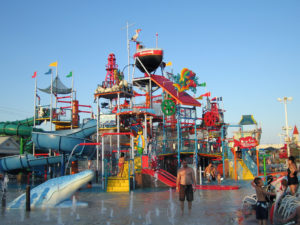 -Casino Pier and Breakwater Beach Waterpark, Seaside Heights, N.J.
There are 10 attractions at this waterpark, all of which are kid-friendly. Some of them do require a parent to be present. However, this isn't just a waterpark for kids – it's a waterpark that everyone can enjoy. The park has a wave pool, a free fall slide, racing water slides, a lazy river ride, hot tub springs, tube slides and a multi-level interactive water area that's fun for everyone.
During the winter, it's a ski resort. During the summer, it's a great place to keep cool. There are 22 rides to choose from at this park, a lot of which are more action-filled than your standard water park. At Mountain Creek Waterpark, you can cliff jump, go down the world's tallest zero-gravity thrill slide and take a zip lining tour of the park. There are also many options for people less interested in intense rides, and there's plenty of attractions for little kids.
Another park with indoor and outdoor amenities, Sahara Sam's Oasis is a great choice for a hot summer day. Between the two parks, there are 14 different rides, slides and pools to enjoy. Many of these features are kid-friendly.