St. Joseph's University, New York is set to host the next national gathering for the Association of Colleges of Sisters of St. Joseph (ACSSJ) June 5–7, 2023, at the University's Brooklyn Campus.
"It is a great honor for St. Joseph's to be sponsoring the ACSSJ for their national gathering," said SJNY President Donald R. Boomgaarden, Ph.D., who began serving as the board chair of the ACSSJ in February 2021.
"Working as the chair of this organization has been one of the great experiences of my life, and I know that the energy generated at this event will be a transformative, joyful, and mission-centered experience for all who participate," added Dr. Boomgaarden.
1. Avila University in Kansas City
2. Chestnut Hill College in Philadelphia

3. College of our Lady of the Elms in Chicopee, Massachusetts
4. Fontbonne University in St. Louis
5. Mount Saint Mary's University in Los Angeles
6. Regis College in Weston, Massachusetts
7. St. Catherine University in St. Paul and Minneapolis
8. St. Joseph's University, New York in Brooklyn and Patchogue, New York*
9. The College of Saint Rose in Albany, New York
"The main purpose is to bring colleagues from across the ACSSJ member institutions together to deepen their knowledge about the charism and to provide opportunities for deeper relationships and collaboration," Martha Malinski, executive director of the ACSSJ. "I'm most excited for the opportunity to convene with colleagues to deepen our knowledge and commitment about the charism of the Sisters of St. Joseph."
The previous national gathering saw the participation of several key members of the St. Joseph's University community, including Jessica McAleer Decatur, vice president for marketing and communications; and Amy Poland, Ph.D., associate dean and director of online learning and professor of Criminal Justice; both of whom were facilitators for breakout groups.
Attendees of the gathering also received free electronic copies of the ACSSJ's book "That All May Be One," of which S. Suzanne Franck, C.S.J., Ph.D., associate professor of religious studies, was a key contributor.
After the success of the previous virtual gathering, the ACSSJ will offer many of the 2023 event sessions on Zoom. More details, such as speakers and the event's theme, become available later this fall.
*St. Joseph's University also offers an online campus, SJNY Online.
Taking Advantage of the ACSSJ Student Exchange Program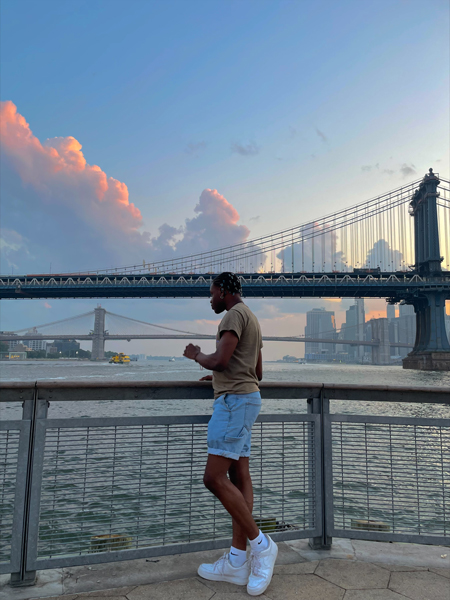 Thanks to the Student Exchange Program created by the ACSSJ, three students from affiliated colleges across the country are also immersing themselves in New York City and all it has to offer while spending the fall semester studying at St. Joseph's University's Brooklyn Campus.
"The program allows opportunities for students to expand their experiences by studying on another campus — exploring another campus, studying with new faculty members, making new friends, and accomplishing their personal and professional goals," said Malinski said.
Malinski believes the program started in the 1970s or 1980s, predating the ACSSJ itself. She shared that two years ago, a student even got to follow in the footsteps of her mom, who participated in the program during the 1980s.
"My favorite thing about the program is hearing about the ways in which (students) find new academic, social and professional opportunities to grow," Malinski said. "Many of the students continue relationships with other students, faculty members and staff after their semester on another campus."
The visiting students this semester are from Fontbonne University in St. Louis (two), and Mount Saint Mary's University in Los Angeles (one).
"I must admit I initially chose St. Joseph's University because of the location," said Damion Tripp, 20, a psychology major from Kansas City who attends Fontbonne University. "New York City has a lot of opportunities and very distinct cultures within the city," Tripp added. "The last time I visited, I really enjoyed my experience and I wanted to revisit it.
"After looking at the school though, I knew for sure that this would be my ideal choice and that I'd get a very good experience out of it," he continued.