Pre-kindergarten staff and supervisors from across Long Island gathered in the SJC Long Island's Shea Conference Room Aug. 28 for Universal Pre-Kindergarten (UPK) Professional Development Day. About 85 percent of the people in attendance were St. Joseph's College alumni.
The full-day workshop was open to all educators and supervisors in St. Joseph's UPK programs — programs that offers services to five school districts across Long Island: Freeport, Lawrence, Westbury, Wyandanch and Uniondale.
"The main goal of the UPK Professional Development Day was to provide new techniques on how to handle challenging behaviors and create a calming climate for our littlest learners," said Pamela Renneisen, director of the UPK program and senior lecturer of child study at St. Joseph's. "In recent years, we have noticed that young children's behaviors have changed. They no longer know how to self-regulate as well as children had in the past. Research has told us that much of it has to do with the changing times, the early use of cellular devices and the lack of play and human interactions."
Useful Tools
During the workshop, UPK teachers and supervisors learned how to use meditation, breathing and yoga through musical experiences as tools to help in the classroom. Educator Bari Koral led the workshop.
"Our actions determine the response in the children," Renneisen said. "If we get anxious, they feel it. If we get frustrated, they sense that. And if we keep our cool and use techniques to center ourselves and calm our bodies, the children will do the same. If we, as leaders in the classroom,  are equipped with enough strategies and knowledge about positive interventions and actions, we will be able to respond to challenging behaviors and help the children learn how to self-regulate and self-respond to their own feelings and emotions."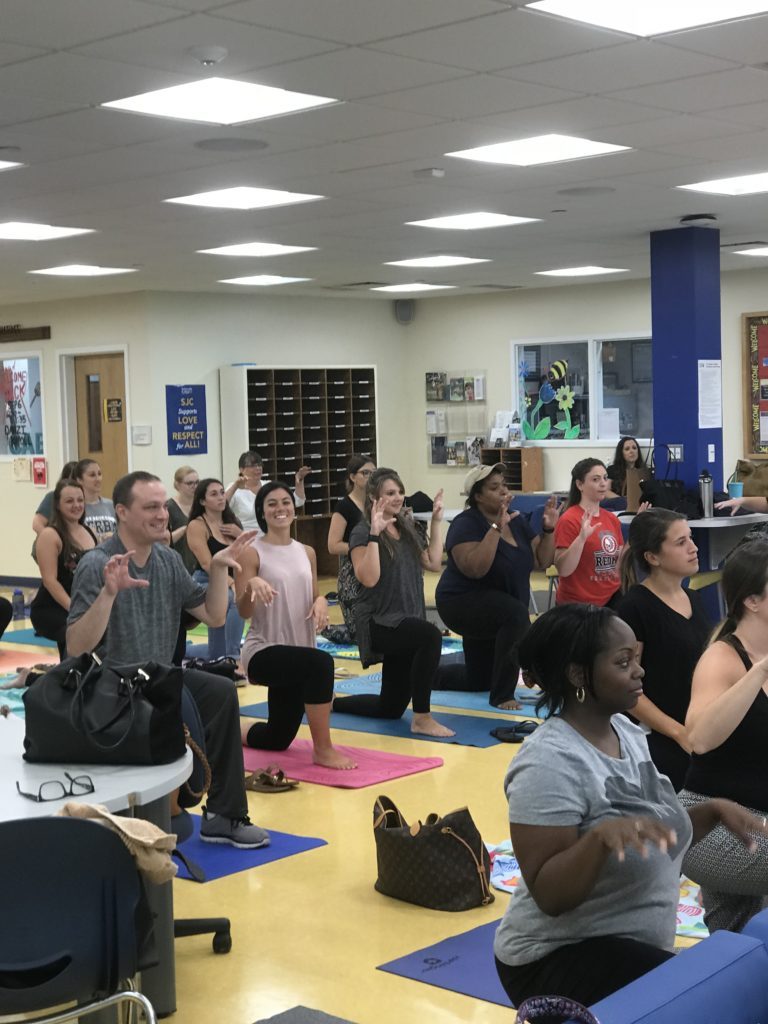 The workshop also reminded teachers about the importance of self-care and taking the time to slow down and be present, Renneisen added.
"We learned very easy techniques to share with the children, such as breathing and using the image of a candle," Renneisen explained. "We were instructed to hold the candle in front of us, breathe in and blow out the candle. This helps reset the nervous system in just 30 seconds. After that, we moved over to the Student Hospitality Lounge, laid down our yoga mats and went through some great activities where we learned a song on how to incorporate yoga movements with the alphabet, dramatizing a rocket ship and going on a dragon hunt. These activities are not only educational, they are interactive, inspiring and entertaining.  I think the teachers were just as enthusiastic as the children will be!"
The Start of SJC's UPK
Back in 2006, the late Mary Fritz, Ed.D., associate professor of child study, began the UPK program with Patchogue-Medford schools. It has since moved to the five districts mentioned above,  with a total of 32 classrooms serving  820 students throughout Suffolk and Nassau counties. There are 70 teachers and 6 administrators working in the UPK programs.
"Dr. Fritz took her vision of providing a 'smart start' for early learners, and it blossomed into a program that provided pre-kindergarten services to thousands of children, as well as teaching positions for more than 100 St. Joseph's graduates," Renneisen said. "Sadly, Dr. Fritz recently passed away. We not only have the obligation to carry on her mission, but also to exceed her expectations and continue to expand and grow. She left behind some very big shoes to fill, but I am pretty sure that is what guides and inspires us to make each year more effective than the last."