The second annual I
SJC Week is casting a special spotlight on the favorite SJC Experiences of the College's alumni and current students. Replying to a questionnaire conducted by St. Joseph's Office of Alumni Engagement, alumni and future alumni shared their most treasured moments at the College.
Playing for SJC Brooklyn's softball team was hands down Victoria Mahoney's favorite SJC Experience. The 2019 graduate said the memories she made on and off the field with her teammates and friends will last a lifetime.
"The sport of softball gave me more than I could ever have imagined it would give me," said Mahoney, who majored in mathematics and computer science and is employed as a University Partnership executive. "From lifelong friends to life lessons, I am beyond thankful for not only softball, but for the opportunity to play at SJC."

Mahoney said her softball coaches encouraged her to join other clubs on campus, such as SGA and the Student Athlete Advisory Committee (SAAC).
"In all of these roles I met people who taught me so much about life and about myself as a person," she said.
Participating in athletics is one of Nicholas Hernandez' two favorite SJC Experiences. The junior business administration major plays on the baseball team at SJC Brooklyn. His other favorite experience — becoming a resident assistant — "taught me how break out of my shell," he said.
For 2019 SJC Long Island graduate Robert Wagner, marching with fellow students and alumni in New York City's St. Patrick's Day Parade was his favorite experience.
"It's cool to represent my school at a big event, such as the parade," said Wagner, who was a speech communications and information technology major at SJC Long Island, and who now works in the campus' athletic department. "At SJC, there's always opportunities for everyone. I truly felt cared about by everyone here."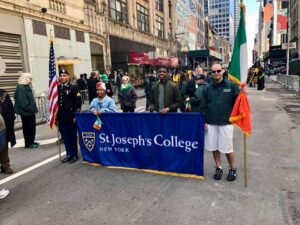 Traveling to Greece with her fellow Honors program classmates and instructors is SJC Brooklyn Amarfi Collado's favorite SJC Experience. The criminal justice major's trip to Greece was her first venture outside the United States.
"SJC enabled me to do it with classmates and instructors who I have shared time with — making it an incomparable and exciting experience," said Collado, president of SGA at SJC Brooklyn. "Leading up to the trip, we studied Greek mythology, as well as Greek art and history for months, through books and research. Being able to see it all in-person made it a great experience."
The trip also helped develop Collado's leadership skills. Collado also serves as an orientation leader on campus, and as a member of SJC Brooklyn Dance Team, she performs at halftime during home basketball games in The Hill Center.
"The trip made a leader, academically and artistically," she said.
Alternative Winter Breaks — recently renamed Mission Trips — have been SJC Long Island sophomore Erin Malone's best SJC experiences so far.  The child study major said the trips afforded her the opportunity "to meet new people."
"I've been on two alternative winter breaks, and they were both amazing times," she said. "I went not knowing anyone, and I came back with a good group of friends from both trips. Now, I have friends on campus, rather than just faces I pass in the halls."
SJC Brooklyn sophomore Rochelle Exilas said Professor Rosemarie Hamlin's speech class has been her favorite SJC Experience. Exilas, a child study and speech double-major at SJC  Brooklyn said "the class was filled with discussion, rather than lecture."
Senior SJC Long Island student Colleen Flynn said the annual Leadership Luncheon was her favorite SJC Experience.
"Because it is a time for SGA to recognize all the hard work done by staff, faculty and clubs throughout the year," said Flynn, a human relations major. "They shaped me into a stronger leader!"
Junior child study major Dana Klein said participating in SJC Long Island's Safe Halloween is her favorite SJC Experience.
"I love working with children, Halloween, and participating with my American Sign Language Club (ASL)," she said. "Everyone is kind and helpful!"
SJC Brooklyn sophomore Conor Leon, a journalism and new media studies major, said working in the athletics department on campus has been his favorite SJC Experience.