The importance of the connection between one's self and the environment.
That's what Leah Winston learned from Ecological Psychology when she took the course during her final semester at SJC Long Island — the very semester a pandemic caused a national lockdown. 
"In the time of COVID-19, where everything was either postponed, on pause or taken from us, there was one thing that remained … the environment," said Winston, who graduated in May 2020 with a degree in psychology and a minor in mindfulness and contemplative living.
Being Present
While taking the psychology class with Dr. Nicole Cromer, Winston, who struggles with anxiety, discovered ways to lessen her fears by spending time outside.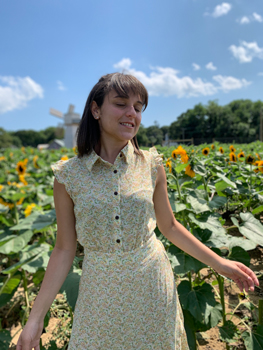 "Typically, my anxiety is future-oriented, but when I'm outdoors and paying attention to my surroundings and the place I'm in, I found I'm capable of remaining in the present moment, which allows me to practice mindfulness — something that typically proves difficult for my racing mind," Winston said.
And instead of spending the months of March, April and May stuck inside and watching endless television, Winston found peace in lying outside in the grass, under the sun.
"It's interesting because there's such an environmental disconnect today, but I realize now that incorporating the environment and including its benefits in your life can also have positive effects on your spirituality and emotions," said Winston, who's attending Stony Brook University in the fall to pursue master's degree in social work  .
Connecting with Her Heritage
Winston also developed a connection to her Irish heritage while learning about ecological spirituality.
"I don't know much about my grandfather, who passed away when I was 2, but I know he held a great love for his Irish heritage," Winston said. "When I was reading about Irish mythology and folklore and its connections and beliefs about the environment, I began to grow that same love for my Irish heritage.
"In Irish folklore, they have this way of re-enchanting the natural environment in which we live, in a way that is similar to what ecological spiritualities do," Winston continued. "In turn, I believe they feel a greater sense of responsibility to the environment — the same environment that has given me and all of us so much."
Winston appreciates how much this course encouraged her to grow and become more open, more spiritual and more in love with where she comes from.
"I want to get a doctorate in psychology eventually, and I will definitely incorporate eco therapy into my practice," she said.